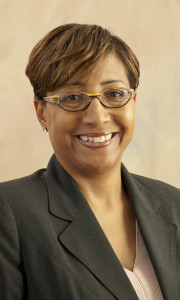 Greeting from the Northeast Region Board of Directors!
It is an honor and a privilege to serve as the president of the National Council on Black American Affairs, Northeast Region (NCBAA-NE). First, I would like to take this opportunity to thank YOU for supporting the Northeast Region of NCBAA. Thank you to our institutional members for campus-wide support of our organization. Thank you to our individual members for your continued support of the conference and other activities. And, thank you to our supporters and friends. With your support, we are looking forward to another exciting year.
I'm hopeful that you will enjoy reading the Northeast Region's Fall 2016 newsletter. We've attempted to gather newsworthy events and happenings that have occurred at member institutions in our region. On behalf of the Board of Directors of the Northeast Region, I'd like to extend a personal invitation for you to join us at our 2017 Spring Conference, Leadership & Engagement for Student Success: Renewal & Transformation. The 2017 conference will be held on March 23 and 24, 2017 at Bergen Community College at the Meadowlands in Lyndhurst, New Jersey. A special thank you to Dr. B. Kaye Walter and the Bergen team for hosting the upcoming conference. For full conference details, visit the conference webpage at: http://www.ncbaa-ne.org/ncbaa-northeast-2017-spring-conference/
I encourage you to stay connected to NCBAA-NE by browsing our website, looking for us on LinkedIn, in your email box, and by contacting us directly. I personally welcome your feedback, input and comments. Please do not hesitate to contact me at president@ncbaa-ne.org, or any of our board members.
If you have any news you would like to share, please send it to Dr. Gwendolyn W. Sanders, Vice President, Public Relations at publicrelations@ncbaa-ne.org or gsanders@springfieldcollege.edu.
Hope to see you in the Meadowlands in March!
Warmest Regards,
Rhonda
Rhonda Spells Fentry, Ed.D.
President, NCBAA-Northeast Region