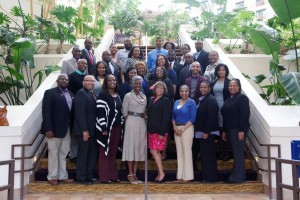 NCBAA is committed to delivering an exemplary leadership development program for African Americans in community colleges so as to enhance their leadership skills and provide opportunities for professional and personal growth. In keeping with its mission, NCBAA presents the Fourteenth Annual Leadership Development Institute for African American Midlevel Administrators. The Institute prepares African Americans in community colleges for leadership roles to insure that the pipeline to executive-level positions is fluid.
The institute (LDI) will begin Sunday, October 15 at 4:00PM and end on Friday, October 20, 2017 at 2:00PM. The 2017 institute will be held in Baltimore, Maryland.
APPLICATIONS
Applications for the 2017 institute will be accepted from May 10, 2017 – September 29, 2017. Applicants should submit application packets as early as possible since only 25-30 participants will be accepted.
SCHOLARSHIPS
The Mary E. Coleman Scholarship ($1500) and the Dr. Marian C. Shivers Leadership Scholarship ($1500) will be awarded to participants who are employed in a community college and meet all other requirements as specified on each scholarship application form. The scholarship application forms are available on the NCBAA website at www.ncbaa-national.org. Applications for the scholarships will be accepted from May 10 – September 8, 2017.
For information about the institute, scholarship opportunities, and application instructions, please see the the 2017 LDI brochure.